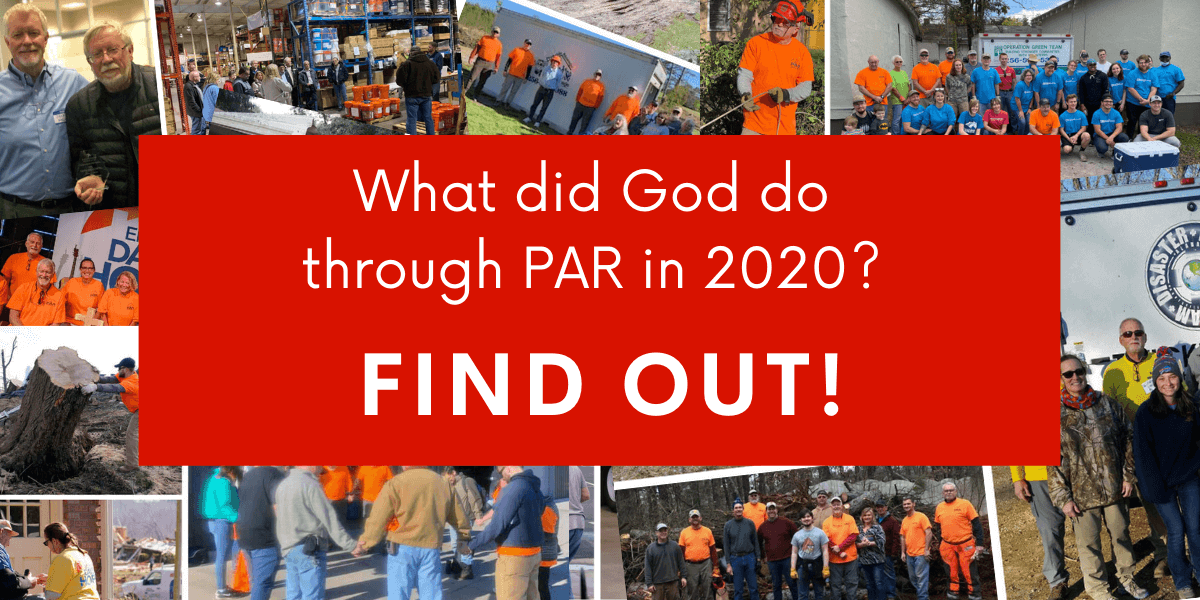 25 Jan

PAR 2020 Year-in-Review Details

What did God do through PAR in 2020?

Read our full 2020 Year-in-Review below written by Danny Walker. To see photos of the highlights, visit here.

If you would like to participate with PAR in 2021, sign up here to become a volunteer.

Or you can donate securely online here.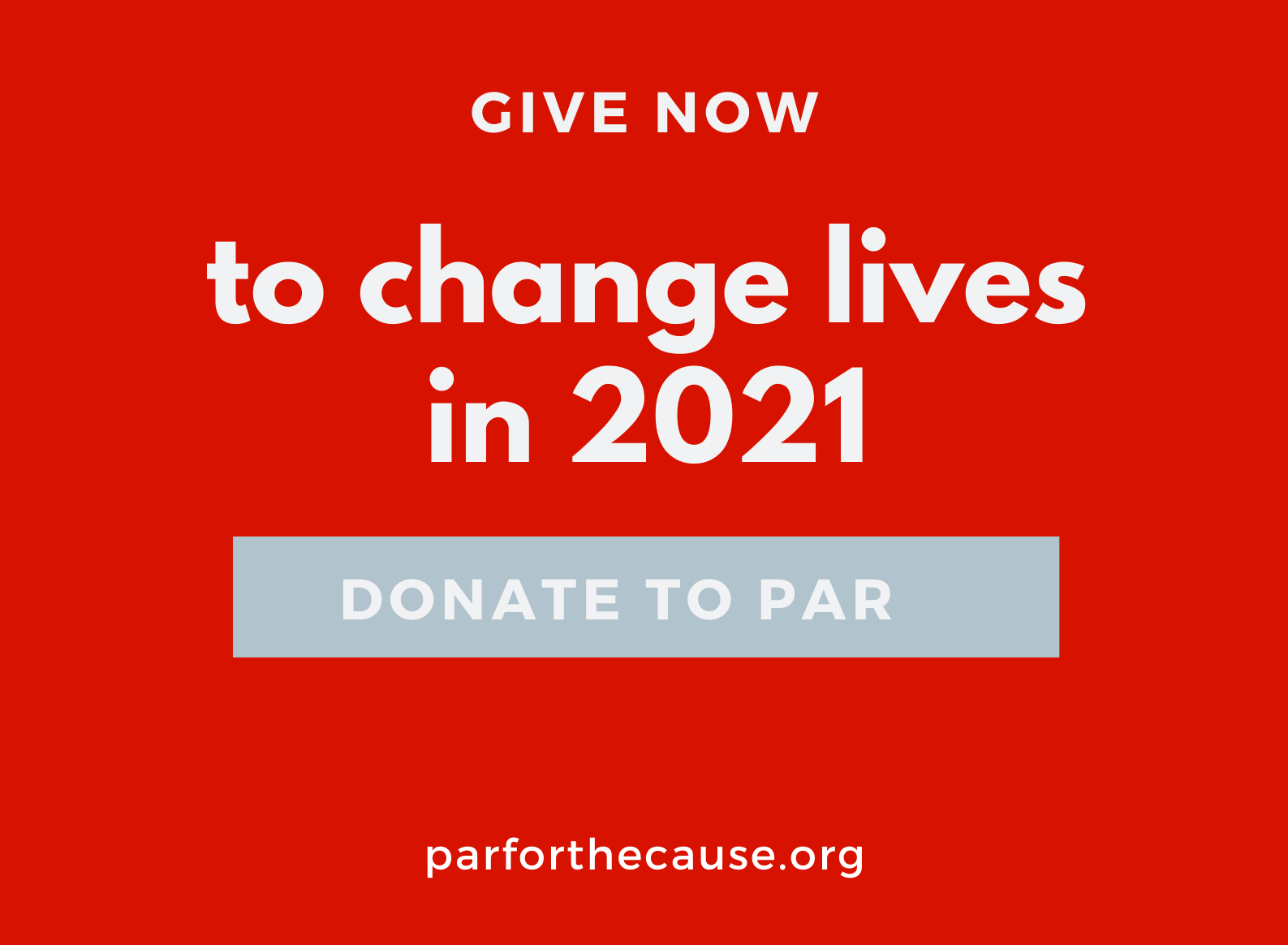 ---
As we reflect back on 2020, we are reminded of all the challenges we faced this past year. The COVID-19 pandemic significantly impacted not only our country but throughout the world. No one could have predicted how our resolve would be tested but through it all, God's people had opportunities to spread hope and love to so many hurting in our communities. We are so grateful for our first responders, nurses, doctors, and other health care officials battling this virus and we must continue to lift them up in prayer and ask God to protect them and provide them strength in the days, weeks, and months ahead.
It was also a tough year for natural disasters. There were 30 named storms in the Atlantic Hurricane season and 8 that hit the U.S. causing widespread damage. California and other western states experienced historic damage from fires. PAR was committed to respond and assist those impacted by these disasters but the pandemic certainly limited our ability to do so safely. Below is a chronological summary of some of the activities PAR assisted with this past year.
JANUARY
The year began with severe weather outbreak in the north Alabama area. Not typical to have these strong storms so early but it was an indication of the kind of crazy year it would be. A PAR team assisted an elderly couple in Harvest with numerous downed cedar trees along their driveway. We also responded to a single mom in Madison that requested help removing several large pine trees from two of her neighbor's property that had blown over into her backyard. This job required the lift and the skid steer and we were fortunate to minister to her and her neighbors and finished the cleanup in one day because we had a large group of volunteers show up on short notice.
On January 11, an EF2 tornado hit near Olive Branch Mississippi and PAR sent a team with a skid steer and an equipment trailer to assist with the cleanup effort. We partnered with Eight Days of Hope (EDOH) from January 16-19 and worked in an area that had numerous large trees down. Although it rained one full day on this trip, we worked through it and were able to clean up trees and debris at three homesites. We also had two of our volunteers complete the top level of EDOH chainsaw training and are now certified to cut all trees at disaster sites.
FEBRUARY
A PAR representative attended a meeting held by the Madison County Volunteer Organizations Active in Disasters (VOAD). VOAD is made up of local government volunteer organizations and is held and facilitated by our local Emergency Management Office. PAR is an active member. Due to the pandemic, this was the last in-person VOAD meeting in 2020.
On February 25, PAR received an award at a banquet held by the City of Huntsville. The award was to recognize PAR for the outstanding volunteer support we provided an elderly homeowner that had extensive flood damage in her home. City officials became aware of this need and contacted PAR to request our assistance. Under a program partially funded by the federal government, the City can provide materials but not workers to help homeowners that meet certain income and age requirements. Since PAR has tools, equipment, and experienced volunteers for responding to flood victims, we were glad to assist in this project.
PAR officials attended a Disaster Response Roundtable in Birmingham hosted by Church of the Highlands. Attendees include many of the faith-based U.S. and international disaster relief organizations as well as some church groups that respond to disasters. They have hosted this meeting the last couple of years and this past year, they created a platform to connect this network and stay in communication for planning responses to and coordinating at disasters. Some of the organizations in this network include Hope Force International, Eight Days of Hope, World Vision, Mercy Chefs, Memphis Dream Center, Bethel Global Response, Citi IMPACT Ministries, Christ In Action, Church of the Highlands, etc. There is also a group called the Austin Disaster Relief Network that is a coalition of churches and organizations from Austin, Texas, that is in some ways similar to PAR. It has been a blessing for PAR to be a part of this network and we look forward to working with them in the future.
MARCH
Early on the morning of March 3, a line of severe weather that produced numerous tornadoes, raced across middle Tennessee. Many areas sustained significant damage, including the city of Nashville. PAR quickly organized teams to respond and sent the first team on March 6 to work with Eight Days of Hope (EDOH) in Mount Juliet Tennessee. The team was joined by Dale Strong, our Madison County Commissioner. Dale was involved when PAR was formed back in 2011 so we were fortunate to have him travel with the initial team. Since we were the first team to arrive at the EDOH site and they were still in the process of finalizing work orders, Dale contacted officials from Mt. Juliet Police and Fire Departments to offer our help and they quickly identified several first responders that had damage and needed assistance with the cleanup. Over the course of the next several days, the PAR team helped these homeowners and worked in an area that had catastrophic damage. Unfortunately, this neighborhood also had some of the fatalities from the storm, which is always heart wrenching for the volunteers. The next PAR team arrived a few days later with fresh volunteers to assist the initial team and they all worked to clean up more tornado damage in the Lebanon, Tennessee area.
As PAR was finalizing plans to send the next team to help with the cleanup, we were informed that due to the rise in COVID cases, EDOH and other groups would no longer be accepting overnight volunteers. This was a surprise but turned out to be a sign of what was to come.
As the COVID crisis worsened, local news reported a shortage of personal protective equipment (PPE) for health care workers and first responders. Since PAR maintains a large supply of PPE items for responding to flood disasters, we contacted the Madison County Commissioner and offered to donate our items. Dale said there was a desperate need and promptly met us at the warehouse. We loaded a truck with cases of N95 masks, dust masks, latex gloves, medical gloves, hazmat suits, safety glasses, goggles, hand sanitizer, sanitizing wipes, etc. Dale sent pictures later that day of the items being distributed for immediate use. PAR has been blessed to receive the monetary donations at our golf tournament to purchase these PPE items so we were glad to be able to give back to our community during this crisis.
A PAR training was scheduled for March 21 at Wooley Springs Baptist Church (WSBC) that unfortunately had to be cancelled. Wooley Springs had been interested in joining PAR for some time. There was a tornado that hit the Ardmore area back in March of 2018 and WSBC served meals for PAR volunteers throughout the week we were helping with storm cleanup. We were not able to safely reschedule in 2020 but plan to do it in 2021.
One of the PAR assets is a towable manlift that was purchased to help safely cut tree limbs and trees. This lift works great if we are working on trees near a road or driveway but difficult to maneuver to other areas. To solve this problem, we have been looking for a lift that has 4-wheel drive and can reach higher than our 35-foot lift. PAR identified and tested a good, used Bil-Jax 45-foot 4X4 lift and purchased it and sold the towable lift for almost the same amount. Volunteers with experience cutting from both lifts agree the new lift will be safer and allow us to help more homeowners, especially "widow makers," those trees with storm-damaged limbs hanging down, waiting to fall after the volunteers leave.
APRIL
On April 12 an EF2 tornado touched down in Boaz, Alabama, causing significant damage to those in its small path. PAR wanted to go assist but since Marshall County was considered a "Hot Spot" in terms of COVID cases, and keeping our volunteers safe is a top priority, we knew it was going to be a challenge.  Rather than sending a normal call-out for volunteers, we decided to contact a small group that were not only skilled in using a chainsaw and experienced in operating the skid steer and man lift but also willing to help and accept any risk to exposure to the virus. We were able to send over a team that worked several days cleaning up many downed trees at an elderly disabled woman's property. We enjoyed meeting and ministering to her and her family as we cleared the debris. It was the first opportunity to use our new lift and it worked great.
MAY
A severe storm with straight line winds hit the Harvest area and we received a request for help from an elderly couple that had a large tree fall on the fence used to keep their dog in. A PAR team quickly responded to remove the tree and temporarily repair the fence so their large dog could return to the back yard.
JUNE
The ongoing pandemic was certainly limiting activities and volunteer opportunities, so we used the down-time to service the equipment. This included tires and batteries for the lift, new hydraulic hoses for the back hoe, and changing fluids on the skid steer.
JULY
PAR made the decision to cancel the annual golf tournament for 2020. There was a state-wide ban on large gatherings and many local citizens and businesses were hurting financially so it was the right thing to do. However, it was still tough because it is our only fundraiser for the year.
AUGUST
Strong summer storms hit several spots across North Alabama and one with particularly high winds came through the Honeycomb area on Lake Guntersville impacting the home of a PAR volunteer. After scouting the area, a team was formed to help cleanup tree damage using a skid steer and chainsaws on her property as well as an elderly neighbor.
There was also a request for help from a homeowner in the Toney area that had a huge maple tree down in his backyard near his house. A skid steer was also required at this site to clear the large pieces that the PAR team cut up and the debris was placed at the road for the County to pick up.
We received a request from the Downtown Rescue Mission to cut a large oak tree that had fallen over into their parking lot during a storm. The tree was blocking access to parts of the campus so a team was quickly formed to cut up the tree for removal.
On August 27, Hurricane Laura made landfall near Cameron, Louisiana, as a Category 4 hurricane. It was the tenth strongest hurricane by wind speed to hit the U.S. coast causing catastrophic damage to Louisiana. As PAR volunteers watched this storm approach on August 25, it was not a major hurricane but it went through what meteorologists call "rapid intensification" before landfall. PAR wanted to send a team but overnight volunteer opportunities were very limited. We contacted Eight Days of Hope who were trying to set up at a host church but due to power infrastructure being heavily damaged in the region, it was a challenge. In addition, the pandemic was ongoing so only a small team of the most experienced volunteers was formed.
The PAR team left on August 31 for the 10-hour drive to join and partner with Eight Days of Hope (EDOH) in Jennings, La. On the trip, the team encountered some problems (blowout on a tire on the trailer pulling skid steer on I-65 crossing the Tennessee River bridge, engine problems on truck pulling the disaster trailer, skid steer windshield shattered from object hitting it on interstate, etc.). The team arrived safely that night. EDOH not only limited the number of overnight volunteers at this site, they also required masks to be worn while in line for meals and did daily temperature checks.
We were the only team to arrive with heavy equipment (lift and skid steer) so EDOH asked us to tackle a big job at a property in Lake Charles. With all the traffic and road closures, it took over an hour to drive from Jennings to Lake Charles. On the drive, you could see all the downed power lines, including the main structures so we knew the electricity was going to be out for a long time.
The first work site was at the home of Cliff and Bridget, who had over 30 large trees down on their property. It was a blessing to meet and work alongside these wonderful homeowners. He had a tractor and a chainsaw and was not afraid to work. The weather was very hot and humid with heat indices in the 100's and although the team lead required volunteers to drink plenty of fluids and take frequent breaks, several volunteers overheated and had to stop during the three full days we worked at this site. Eventually, this small but persistent team of seven volunteers were able to clear all the trees that Cliff wanted removed. As we do at all our work sites, we prayed for the family and the community as we said our goodbyes.
Four additional volunteers from PAR arrived on September 3 and joined the team. The next morning, we were asked to clean up storm damaged trees on the property of the host church (Our Saviors Church in Jennings, La.) and on the property adjoining the church and then drove back into the Lake Charles area for the next job site. We worked at the home of an elderly couple that, believe it or not, had a deer farm. They raised deer to sell to hunting clubs but no profits yet because she refused to sell any so basically, they were raising pet deer. We removed down trees on their property and used the lift to cut all the damaged limbs hanging in trees.
The next two days the team worked in the small community of Iowa (pronounced eye-o-way), which is located just outside of Lake Charles. We always pray that God will place folks in our path that we can help and minister to and it is amazing how He works in the midst of disasters. On the way down, we stopped for fuel and noticed our Bobcat windshield was shattered. We contacted several Bobcat dealerships in Louisiana to find a replacement. We were able to find one in Lake Charles and once they found out we were coming down to help with the cleanup, they agreed to work us in the first morning. As we were waiting for the mechanic (Tim) to complete the installation, he shared with us that he had significant damage at his property and sure could use some help. We arranged to work at his place on our fifth work day.
Tim lived in a mobile home in Iowa that was heavily damaged as well as other buildings on his property. Several huge trees were down in the yard, on the roof of one of the buildings, and on his fencing. This job required both skid steers and the man lift to remove the debris and as we worked, we listened to Tim and his wife Kim share their testimony. They were very thankful for our assistance and when we presented them with gift cards to Lowes, they began to cry and could not understand why we would do all the cleanup work and still provide them with gift cards. We told them that we accept donations from folks that want to help but can't physically go do the cleanup and we use their donations to provide these gift cards so they can go buy what they need to help with their recovery.
There was widespread storm damage in Iowa so as we worked on Tim's property, many of his neighbors came over requesting help so we spent the rest of this day and the next working in this area. In all, we helped four more homeowners in this neighborhood clean up the downed trees. One neighbor was a single woman with trees on her home, detached garage, chicken coop, fencing, and in her yard. Once we finished removing the trees and tarping her roofs, we presented her with the gifts cards and prayed for her and her community. She was very grateful and said she wanted to thank us for coming to her rescue. She had numerous LSU signs in her yard so we jokingly told her all she had to do thank us was to yell "Roll Tide"! She laughed and she yelled it. The team returned on September 7 tired but thankful we were able help with the massive cleanup that was going to be required.
SEPTEMBER
On September 1, a special prayer meeting was held at the Rock Family Worship Center to not only pray for protection for the PAR team in Louisiana but to also pray for God's guidance and wisdom for PAR's leadership team.
Hurricane Sally made landfall near Dauphin Island as a Category 2 storm with sustained winds over 100 mph and major flooding. PAR sent a team down to Foley, Alabama, from Sept 18-20 to help with the cleanup effort in Baldwin County. We worked alongside representatives from Church of the Highlands for the first time on a deployment. City Hope Church not only hosted our volunteer teams, they also provided us with work orders from homeowners needing help that they had pre-screened. We worked in Daphne, Spanish Fort, Fairhope, and other smaller communities and helped numerous homeowners with cleanup of downed trees.
One homeowner we helped was an elderly widow that evacuated to stay with family in Indiana prior to the storm. Her next-door neighbor notified her of the storm damage and she approved the waiver remotely after seeing the pictures. She had a massive oak tree that fell across a ten-foot retaining wall with the trunk damaging the wall. This was a very complicated tree removal because of the steep slope of the yard and the risk of further damage to the wall. The team was able to carefully remove the tree and as we were doing final cleanup with rakes and brooms, the widow returned home. She was very emotional because she had lost her husband just two years ago and as we tried to comfort her, she shared that her husband had been passionate about disaster relief and was a volunteer for many years at their church. She added he was always helping others that had storm damage so she was confident that God had led us to her because of his servant heart in the past. The team prayed with her and left with a little extra satisfaction knowing we had served God by assisting this widow in need.
To repay PAR for donating the PPE supplies back in March, the County Commission donated some items that we could use in our response to Baldwin County such as new chains for the saws, bar oil, fuel, etc. We are blessed to have their support.
OCTOBER
We had a work day at the warehouse to get prepared for potentially responding to what was yet another storm brewing in the Gulf. Volunteers helped service equipment, tidy up and restock supplies in the trailers, and do some housekeeping in the warehouse. We also put new shelving units in the large storage container that is adjacent to the warehouse. We moved a significant number of items into the container (cots, wheelbarrows, generators, tarps and roofing supplies, etc.) freeing up much needed space in the warehouse.
PAR purchased a 2018 Ford F350 to replace a F250 truck that was sold earlier in 2020. The F250 was getting high mileage and was just not able to safely transport the heavy equipment trailers. We purchased the truck from Parker Ford in Murray, Kentucky, who discounted the truck because the owner has a heart for faith-based disaster relief organizations. He has been helping Eight Days of Hope for several years and they recommended we contact him when we discussed our need for a new tow vehicle.
NOVEMBER
On November 7 PAR volunteers assisted in a project led by the City of Huntsville Green Team to help remove brush and limbs from numerous houses owned by the Lincoln Village Ministry (LVM). LVM purchases run-down homes in the Lincoln Village area and then with the help of volunteers from the community, they remodel and make these homes available to single mothers and families needing affordable homes.
DECEMBER
PAR recently became a member of a Charity Tracker, which is a tool for communities to help identify needs and communicate them so resources can be quickly mobilized to help meet those needs. Members can generate a request for assistance that sends an email to all those in our area on Charity Tracker. Many of the requests are for items like wheelchairs, furniture, or rent assistance but there was a request that came through asking for firewood for an elderly couple living in Huntsville that had no other way to heat their home. We know wood so we were able to quickly get a couple volunteers to gather a truckload of firewood ready to burn and deliver it to the couple.
We normally get together each year for a Christmas dinner but with COVID cases spiking, we canceled the dinner. This was certainly a challenging year with so many impacted by the pandemic. As we closed out 2020, we pray things improve and we look forward to the opportunities to serve Christ in 2021.